1 – Leverage Qualified Buyers To Attract Sellers
Send a hand-addressed and stamped letter to potential clients. Include your profile and listing for a bigger impact.
Ex: I'm representing a serious buyer who is interested in your home I'm sure you've seen what's happened with home values! My client is financially qualified and flexible on timing. If you've had any thoughts of selling your home this could be the best scenario. If you're interested, perhaps I could show your home? If you're not could you text or email me so I can inform my client?
Respectfully, (Your Name)
P.S. I've included some client reviews on my service and my sales track record from Zillow.
2 – Use "Slybroadcast"
Send a pre-recorded voicemail to the neighborhood. Be smart about the timing! We've found the best time is between 4 and 6pm. You could easily combine this tip with the first one and follow up your letter with this voicemail!
Ex: Hi, this is (your name) ! I sent you a note about my client who would love to buy a home in your neighborhood. If you've had any thoughts of selling 2023 would you call or text and let me know? My number is (your phone #) , Thank you!
3 – Door Knocking Hot Communities
Door knock with a twist! Place a sticky note with your business card on the door – "Please call me about your house. Thank you!"
4 – Agent To Agent Referrals
5 – Use Instagram Story Polls To Engage Potential Clients
Ask questions on the polls that get you the information and leads you want. Send personal direct messages to those who answer in line with looking to buy or sell!
Ex:
Poll 1: Are you living in your dream home now? Yes | No
Poll 2: Have you had any thoughts of selling your home in the next 1-2 years? Yes | No
You would then send a DM to those who answered NO to question 1 and/or YES to question 2
6 – Create A Seminar For Seniors Called "Big To Small House!" – Downsizing Strategies
Here's some info on hosting a virtual workshop!
7 – Contact Past Clients From 2-5 Years Ago
14 year follow up after closing plan
8 – Non-Occupied & Investors
– Focus on people who own 5-10 properties
– Create a list of up to 100 people who own properties
CALL UNTIL YOU GET THROUGH!
9 – Get A Celebrity Endorsement Or Influencer
6 degrees of separation – Who do you know?
Use people from your town
Ex. Principal of school, town mayor, owner of local restaurant
– Shoot a short video with them
– Run FB ads with it to a landing page
– Add to your website and social channels
10 – Sign Up For Seller Attraction Sites


11 – Expired Listings
12 – Run Radio Advertising
Look up local rates in your neighborhood market
– No less than $200 per week
– No more than $2000 per week
Script

"Selling your home in 2023? Looking for the highest sales price & fast, efficient service? Contact AGENT/TEAM NAME with BROKERAGE @AGENT MAIN NUMBER, That's AGENT/TEAM NAME @AGENT MAIN NUMBER with over ( Number of reviews) 5 star reviews, sell your home with AGENT/TEAM NAME @AGENT MAIN NUMBER"
13 – Run Facebook Ads
14 – Run YouTube Ads
Focus on people who recently searched for homes on google

SCRIPT
"Are you looking at homes for sale in MARKET AREA?
I'm AGENT NAME with BROKERAGE, so far this year we've helped HOME SOLD families buy and sell real estate. If you're looking to save time and save money, click the link below or contact Us @AGENT MAIN NUMBER."
15 – Run TikTok Ads
16 – Calling for your buyers
Circle Prospecting
17 – Giveaway Contest
18 – Professional Networking on Steroids
Join a BNI group, go to all their happy hours.
START YOUR OWN PRIVATE CLIENT SERVICES PEOPLE WANT TO FEEL SPECIAL with tiers and peaks
19 – Create An Expired Listing Social Proof Video
After you have called them, email them the video with your proposal
SCRIPT "Hi there! I'm (name) with (company name). Are you tired of having your home on the market day after day, week after week and it hasn't sold? Well, if that's how you're feeling right about now, I've got something I want to show you. In any market place, who you list with matters. This home
(address of home) was on the market with another real estate broker for (number of days on market). We did an aggressive marketing of the property and sold it within (days it sold) at full price. If you want this type of results for your home, give us a call at @AGENT PHONE NUMBER."
20 – PHONE PHONE AND PHONES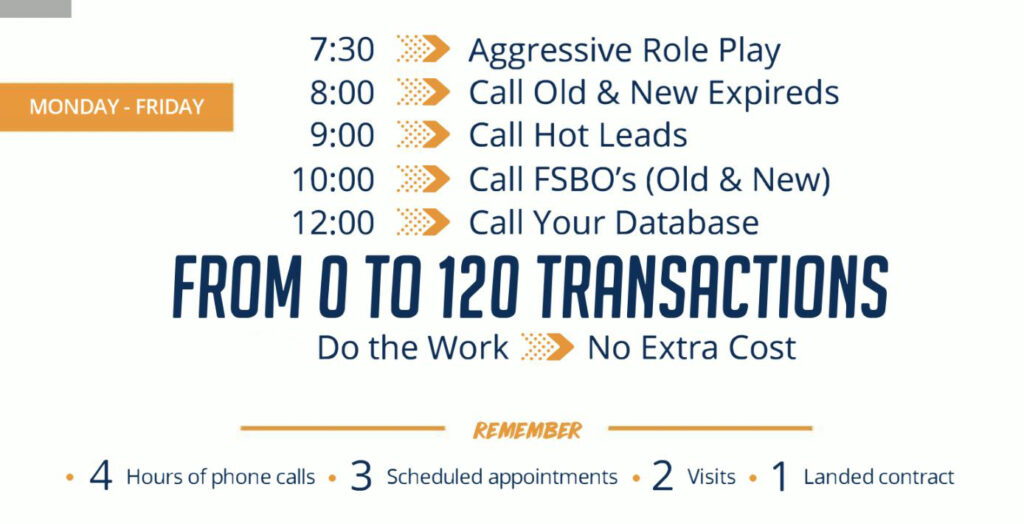 21 – Create A Map Of All The Agents You Work With Around The Country
22 – Email Your Entire Database TWO Different Questions
• Are you planning to sell your home in 2023?
• Have you had any thoughts of selling at these peak prices?

23 – Create A Workshop For Savvy Homeowners
24 – Online Leads And Sellers In Disguise
25 – Do Sales Meetings At Offices
Invite and Mentor newer agents to use you to get listings they couldn't convert on their own with a 50/50 split.
26 – Do Facebook & Instagram Live In Front Of Sold Sign
"It's "NAME"@"COMPANY". I'm standing in front of Banana St. We just closed on the property sold in "X" days of listing price. How you ask? Our marketing and negotiation skills.

27 – Divorce Attorneys
To do List
– Create a list of A&B divorce attorneys town
– Narrow to 20/50/100 (based on your timeline)
– When selling in a divorce see if you have LinkedIn connections or Facebook friends with mutual connections
– Call and introduce yourself
– Send a simple package with a cover letter
– Include map of sales, reviews, highlights, any divorce or difficult sellers
– Possibly do a show/podcast with one "mistakes to avoid"
28 – Geo Farming, New Listing Domination Campaign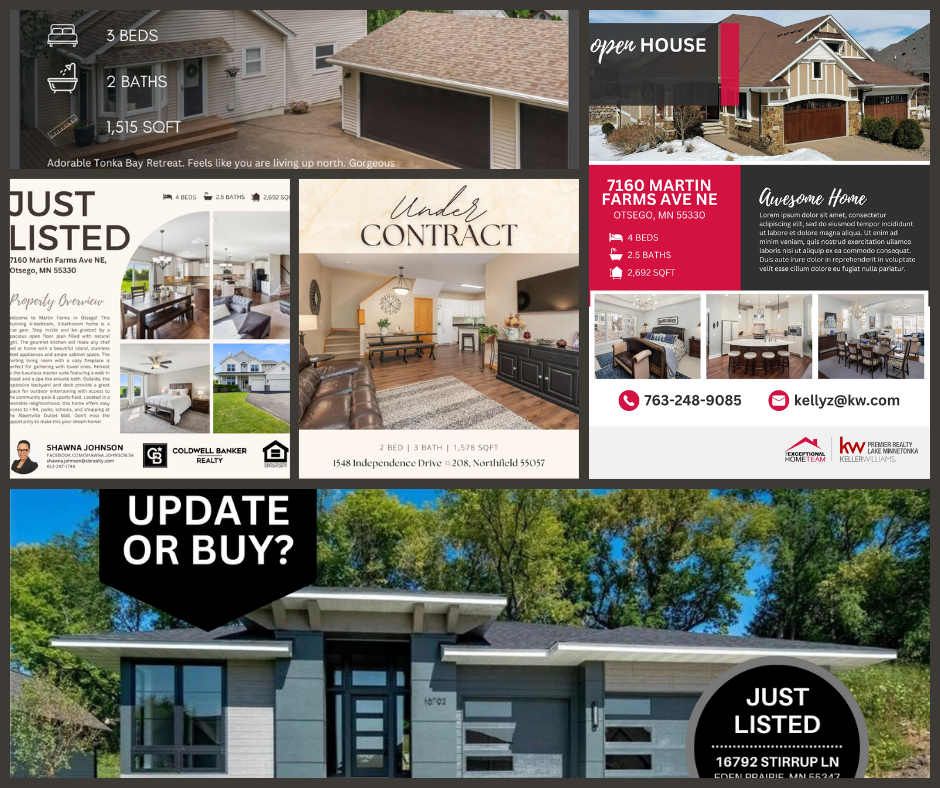 We can help with all these services , design and implementation
Mailing Campaigns
• Coming Soon
• Just Listed
• Open House Invitation
• Testimonial Card/Review on Note Card
• Just Sold
• "We Have More Qualified Buyers" (Yikes)
• Market Update
29 – Adopt Agent Databases Who Are Leaving The Business
30 – FSBO's and Make me Moves

31 – Mega Open House
32 – Have sellers write a letter to their former neighbors endorsing you and your services
Rewrite letter below and take out all personal info and replace with Agent Name, Agent Phone Number Etc.