For homeowners considering selling their property this year, you'll want to do everything you can to boost the value of your home. There are many different ways to improve the curb appeal of your home, which will make it far more appealing to potential buyers. Let's take a look at five of the best ways to help increase your home's value by up to 28%.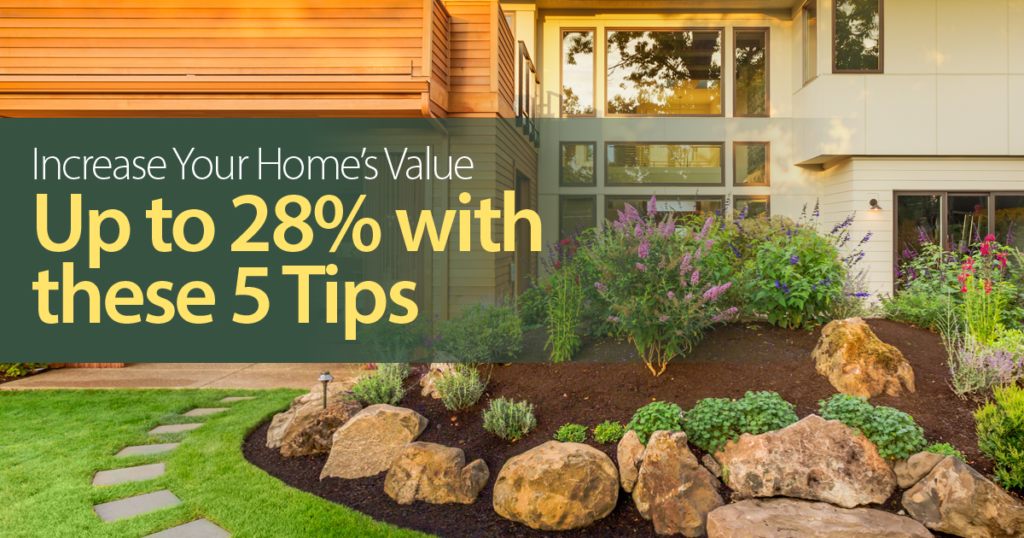 1. Paint the Exterior of Your Home
One essential update you can make to any property is to paint the outside of your home. We usually recommend leaving this job to a professional for larger properties, but you could tackle this job alone if you live in a smaller house or have the extra time. Dollar for dollar, it's generally quite an inexpensive investment for your home, and you'll find that you can experience an up to 100% return on your investment. Of course it all depends on the initial condition or color of the exterior.  Be sure to reach out to find out if painting your property's exterior makes sense for you.  Click here for top paint exterior colors of 2021.
2. Focus on the Small Details
All of the small details in a property soon add up to create a more aesthetically pleasing home for potential buyers to view. Paint your front door to create a welcoming first impression, and then ensure your door fixtures are in good condition as well. The number of your home is one of the most important things to replace or refresh, so make sure the numbers stand out before listing your home on the market. Check out this amazing website to digitally give your house a facelift. 
3. Work With a Local Gardener to Improve Curb Appeal
The front of your home is your opportunity to make a good first impression to buyers. If you have grass or plants outside of your front door, make sure you keep these well maintained. Work with a landscaping company or local gardener in order to refresh this area and add plants that will thrive in your local climate. We recommend going for low-maintenance options when it comes to upgrading your garden, as potential buyers don't want to purchase somewhere which will require endless hours of work in the future. Be sure to spend as little as possible. The goal is fresh, clean and affordable.  Searching for a good first impression and then the value fades beyond the threshold of the front door.  HGTV pro tips HERE.
4. Choose Seasonal Flowers
Adding a splash of color to your front porch with seasonal flowers is a cheap way to upgrade the entryway to your home. We recommend choosing flowers and plants that will bloom throughout the year. No matter how long your home is on the market, you'll have bold and colorful flowers to welcome your guests. Add a few flower boxes to your home's entryway and windows, and choose low-maintenance flowers so you don't have to keep tending to them while selling your home.
5. Take Professional Photos of Your Home
After improving the exterior of your home with the tips we shared above, you need to make sure this comes across in your listing. Always use a professional photographer to bring out the best in your home. They'll be able to find the right lighting and angles to show off your home's full potential and ensure it receives plenty of attention online.